Now you can filter and sort the surebets by ROI (Return Of Investments).
In the context of surebets, it means how much the surebet will bring per year.
Calculated as follows: one year is divided by the period of investment return and multiplied by the surebet profit.
If, for example, the surebet has a profit of 10%, but the event will happen only after a half of year, it gives 20% per year. And if the surebet has a profit of only 1%, but the event starts tomorrow, it will bring about 365% per year.
If the event is soon to start, the period of investment return is taken as the time to beginning of the match plus 150 minutes.
Secondly, the mechanism of the multi-filter has been changed. We hope now it is more clear. If you have questions, please write to us, we will improve it and clarify.
In addition, the bookmaker Betrally was added. It is similar to 10Bet, but has a different line.
After all now it is possible to choose how many surebets to display per page. The setting is available in the menu Settings → General settings → Results per page.
By voting results, two more bookmakers were added to our list.
Betstars is a bookmaker from the creators of the famous poker room Pokerstars. New, but ambitious bookmaker.
PlanetWin365 – bookmaker with Austrian roots, existing since 2009. It is quite popular in Italy and Spain.
Profitbet.kz and VBet.com have been added to our list of bookmakers.
If you want to add your bookmakers, you can vote for them or suggest new ones. To do this, click on the Bookmakers in the Filter surebets section and in the appearing window click at Need another bookmaker?
As necessary we will add bookmakers based on the voting results.
We would like to wish you Happy New Year and Merry Christmas!
As a gift we will extended subscription period up to 100%!
Thus, for the same money:
7 days will be extended to 14 days + 100%
1 month will be extended to 45 days + 50%
3 months will be extended to 4 months + 33%
9 months will be extended to one year + 33%
The offer is valid from 29th of December to 10th of January inclusive.
The number of periods that can be purchased for the duration of the action is not limited.
You can now save up to sixteen filters. Each saved filter must have a unique name and can contain different sets of bookmakers, restrictions of the time of appearance or profitability of surebets, middles or value bets.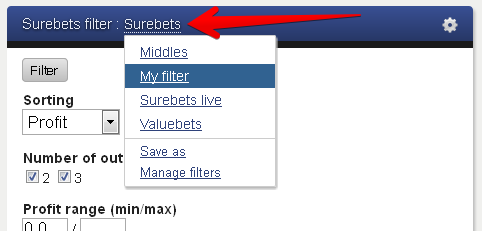 To save a new filter, select the necessary parameters, click on the name of the current filter, then click "Save as" in the opened menu and enter the name of the new filter.
To switch between saved filters, click on the name of the current filter and select another filter from the list.
The following four filters are created automatically for all users:
Surebets
Surebets live
Middles
Valuebets
Filters created automatically or manually can be deleted. To do that, click on "Manage filters" or go to the Settings→Filter menu.
Dear users!
We have added LIVE Surebets in test mode. Currently only 4 bookmakers are available: marathonbet, betfair, pinnacle, sbobet.
Scanning runs on a separate server and does not affect the basic surebets speed. Live surebets update time is a few seconds.
We will add more bookmakers, functions, and we are going to improve improve the interface.
Now LIVE Surebets are free for all users.
Please send your feedbacks and suggestions.
The option of setting commissions flexibly for betting exchanges (Betfair, Betdaq, etc.) has been added to the site: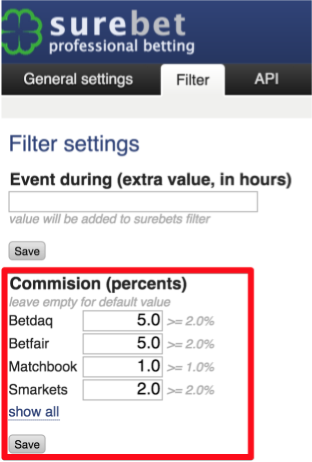 The commission can also be specified for any bookmaker (for example if you lose substantial amounts on transfers and conversions). Depending on the setting, the profitability and quantity of surebets will be different. These settings are used automatically by the calculator.
Also added is the option of removing suspicious surebets from the list: "Filtering" → "Additional Settings" → "Exclude surebets that are likely to be errors". Our algorithm will not show you surebets that are found, but that according to some criteria seem suspicious. The downside is that some correct surebets may also be hidden.
We offer an affiliate program. We are ready to pay for bringing in new customers to our service up to 30% from referral payments.
Details and conditions are available on Affiliate Program page.
Contact us to participate in the affiliate program.
As many of you have noticed, a new feature has been added to the site lately – a surebet initiator sign.
A surebet's initiator is marked with a filled "●" or empty "○" circle sign near its odd.
Knowing a surebet's initiator is important, since this is the starting point for checking the surebet's bets. If this bet is changed or called off, the surebet will be gone as well. All other bets in a surebet are regular bets and the player has more time to check them.
Each surebet contains at least one value bet, and this bet is typically the surebet's initiator.
The initiator is determined in the following way. First, for every bet, we calculate the number of surebets with all bookmakers that have it. Then, we use empty circles to mark bets with the max number of inclusions into surebets among all bets of at least one surebet.
Among the marked bets, fill the circle of the bet that has the max number within one specific surebet.
You can see the number of surebets that the initiator is involved in by placing the mouse cursor over the corresponding circle.
Over the last couple of months, we have fully reworked the internal mechanism of storing middle and valuebet data. This has now made it possible to save, refresh, and display information much faster. Middle and valuebet pages now open in 50% less time, and it takes 10 seconds less on average to refresh data. These improvements will also enable us to add new, additional filtering functionality.
We plan to apply the same improvements to surebets, our main service, in the near future. Stay in touch.